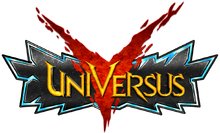 UniVersus is a competitive trading card game designed by Jasco Games, utilizing their "Universal Fighting System" set-up. The game features a variety of characters from various licensed properties, including My Hero Academia, SoulCalibur, Mortal Kombat, Street Fighter, Mega Man, Darkstalkers, Cowboy Bebop, Yu Yu Hakusho, Red Horizon, and Evil Dead 2.
"Combat Ash"
On September 12th, 2019, Jasco Games announced through an update of their-then ongoing Evil Dead 2: The Board Game Kickstarter page that Ash Williams (specifically a version called "Combat Ash") would be introduced into the UniVerses series with a character card that could only be acquired by all backers of the Kickstarter regardless of their pledge-tier, or later through the "UniVersus Redemption Program".
The "Combat Ash" character card was finally unveiled in another board game Kickstarter update released on February 27th, 2020.
Trivia
Ash Williams is the first character that isn't from a Japanese video game or anime/manga property to be featured in the game.
The artwork of Ash featured on the "Combat Ash" card is based on the Combat Ash figurine originally designed for Space Goat's Evil Dead 2: The Official Board Game.
External Links
Community content is available under
CC-BY-SA
unless otherwise noted.