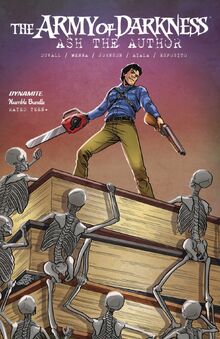 The Army of Darkness: Ash The Author (sometimes listed as Army of Darkness One-Shot Humble Bumble Exclusive) was a digital exclusive one-shot comic book written by Scott Duvall and released by Dynamite Entertainment on October 30th, 2019. The comic could only be purchased for a limited time through the Humble Bumble website via their "Dynamite 15th Anniversary Party" collection, unlocked at the $18 tier, but was later included in the Stand With Ukraine bundle released in 2022 in the aftermath of the Russian invasion of Ukraine.
Plot
The story involves Ash Williams writing a book about his life entitled "How I Could Have Been King: Medieval Dead".
Trivia
This is the first comic based on the Evil Dead franchise to be a digital exclusive.
As the comic cost $18 to purchase, it is the most expensive single digital issue of an Evil Dead comic as of 2020.

The comic was later featured in the "Humble Conquer COVID-19 Bundle" collection released in March/April 2020. While part of this bundle, the comic could be purchased with a minimum donation of $30. While the book still retained it's status as the most expensive single digital issue of an Evil Dead comic, it was later surpassed on the physical front by Jasco's Evil Dead 2 Cinestory in October later that year, a hardback book which cost $40 upon release.

According to author Scott Duvall, the character of Kelley is based on Kelley Allen, an employee at Humble Bumble.