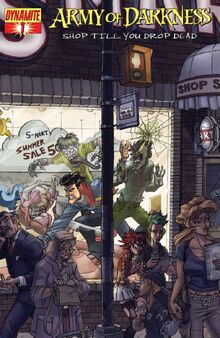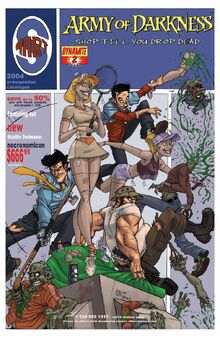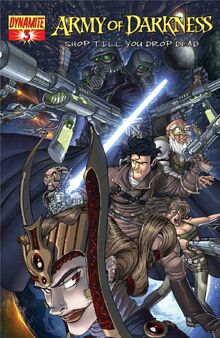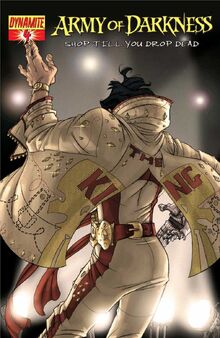 Army of Darkness: Shop till You Drop Dead is a four-part comic book spin-off published by Devils Due Publishing & Dynamite Entertainment, continuing the comic book saga of The Evil Dead series. The story takes place exactly where its predecessor Ashes 2 Ashes finishes, only there is quite a bit of time hopping involved to keep things confusing.
Plot
Ash and Sheila return from Egypt, believing the Necronomicon Ex-Mortis destroyed for good. However, the evil tome has managed to hitch-hike all the way back to S-Mart and wound up in the hands of Mister Smart himself, Ash's cheerfully irritating boss. When Deadites infest the aisles and consumers start consuming, Ash must team up with his fellow co-workers Iggy and Buck to start the ultimate wage slave war against evil. When Ash goes to confront his Deadite Boss, a time portal opens up and sends Ash to the Deadite infested world in the year 2501. With the help of the inhabitants of the human occupants of Deca City One (and a new upgraded gauntlet hand), Ash returns to the present day where S-Mart has been overrun with Deadites. Eventually, Ash and Sheila save the store, but unfortunately, they were the only ones to survive the Deadite onslaught.
Alternate Cover Gallery
Trivia
When Ash's fellow S-Mart worker Iggy ends up with a possessed hand like Ash, it is eventually removed and he is left with a stump on his arm and faints. When he awakes, he finds that Ash has replaced his hand with a small hedge trimmer. It's possible that this is a reference to a commercial for the Evil Dead: Hail To The King video game, where a man finds that a chainsaw for a hand is too heavy for his right arm, and replaces it with a hedge trimmer.
When Ash returns to the present day from the future, for a couple panels he is drawn with a normal right hand instead of his gauntlet hand.
Next in the Army of Darkness series
On Other Wikis
Community content is available under
CC-BY-SA
unless otherwise noted.