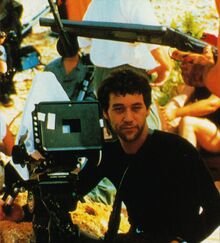 Samuel Marshall Raimi (born October 23rd, 1959) is the writer/director/creator of the The Evil Dead series. He is the middle brother of Ivan and Ted Raimi.
Involvement With The Evil Dead Series
Writer and Director
Actor
The Evil Dead: Hitchhiker
Evil Dead 2: Knight who hails Ash as "He who has come from the skies..."

Kandarian Demon (Voice)

Sam was also going to play Scotty in the recap sequence of Evil Dead 2, but scrapped the idea after a few days of shooting the sequence.

Army of Darkness: Knight in Sweatshirt and Sneakers.
Producer
Within The Woods (1978)
The Evil Dead (1981)
Evil Dead (2013)
Ash vs. Evil Dead Seasons 1 & 2 (2015-2016)
Writer Only