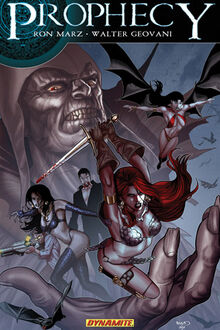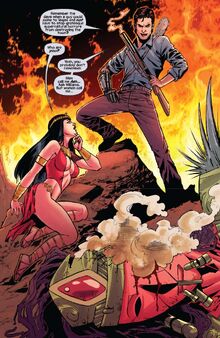 Prophecy is a seven issue crossover mini-series published by Dynamite Comics in 2012, and is based on the Mayan prophecy that the world will come to an end in the year 2012.
Plot Synopsis
There are two stories that the series covers, the main story involving Red Sonja, Vampirella, Herbert West, Ash Williams, Dracula, Pantha, Athena, and Dracula's daughter Eva battle madman Kulan Gath and his "Army of Darkness" from destroying the world in the year in 2012. The second story features Sherlock Holmes, his partner Dr. John Watson, and Alan Quartermain search for a mystical Mayan dagger in 1890.
Continuity
Next In The Army of Darkness Series
Community content is available under
CC-BY-SA
unless otherwise noted.