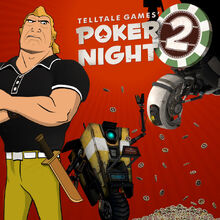 Poker Night 2 is the second installment in Telltale Games' Poker Night series of poker-themed video games. The game features characters from the Borderlands and Portal video game series, The Venture Bros. animated series, the Sam & Max franchise, and the Evil Dead series. The game was released on April 24, 2013 for Xbox, Steam, PlayStation, and iOS.
Connection To The Evil Dead Series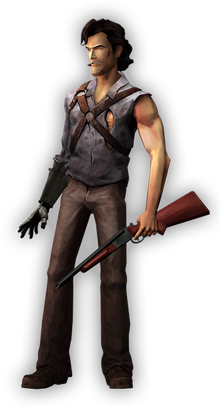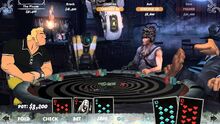 Ash Williams is a non-playable character whom you play poker against in the game. He is based on his appearance in Army of Darkness and was the first time Ash was not played by Bruce Campbell for an officially licensed product.
Each of the opponent players offers a different object as a bounty prize for completing certain challenges; Ash offers the Necronomicon Ex-Mortis (based on it's appearance in Army of Darkness).
There is also an Army of Darkness themed background with a windmill and graveyard, unlocked by acquiring Evil Dead-themed poker chips, cards, and table felt.
The events of Freddy vs. Jason vs. Ash are mentioned by Claptrap.
One in-game conversation indicates that Sheila became pregnant from her brief romance with Ash in Army of Darkness, and had a child a few months after Ash left, and that their child (and therefore Ash himself) was an ancestor of Brock Samson from the The Venture Bros.. Interestingly enough, the STARZ series Ash vs Evil Dead, which acts as a sequel to The Evil Dead series, reveals that Ash has a father named Brock Williams. It is unknown is this was a coincidence or a direct nod to the random conversation.
External Links
Community content is available under
CC-BY-SA
unless otherwise noted.