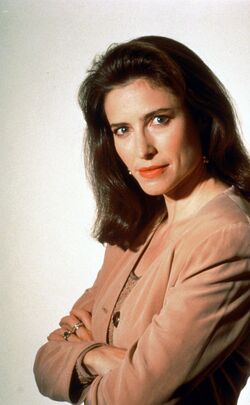 Miriam "Mimi" Rogers (née Spickler) is an American actress, producer and competitive poker player. Rogers played Suzy Maxwell in the second episode of Ash vs Evil Dead.
Biography
Filmography
Year
Film
Role
Notes
1981
Hill Street Blues
Sandra Pauley
2 episodes; "Jungle Madness", "Rites of Spring"
1981
Quincy, M.E.
Corrina Girard
2 episodes; "Slow Boat to Madness Part 1", "Slow Boat to Madness Part 2"
1982
Magnum, P.I.
Margo Perina
1 episode; "Italian Ice"
1982
Divorce Wars: A Love Story
Belinda Wittiker
TV movie
1982
Hear No Evil
Meg
TV movie
1983
Hart to Hart
Robin Wall
1 episode; "Hartstruck"
1983
Blue Skies Again
Liz
1983–1984
The Rousters
Ellen Slade
13 episodes
1984
Paper Dolls
Blair Fenton-Harper
13 episodes
1985
Embassy
Nancy Russell
TV movie
1986
Gung Ho
Audrey
1987
Disneyland
Charlotte
1 episode; "You Ruined My Life"
1987
Street Smart
Alison Parker
1987
Someone to Watch Over Me
Claire Gregory
1989
The Mighty Quinn
Hadley Elgin
1989
Hider in the House
Julie Dreyer
TV movie
1990
Dimenticare Palermo
Carrie
1990
Desperate Hours
Nora Cornell
1991
Fourth Story
Valerie McCoughlin
TV movie
1991
The Doors
Magazine Photographer
1991
Wedlock
Tracy Rigg
TV movie
1991
The Rapture
Sharon
Nomination – Independent Spirit Award for Best Female Lead
1991–1992
Dream On
Julia Montana
3 episodes
1992
White Sands
Molly Dolezal
Cameo
1992
Tales from the Crypt
Helen
1 episode; "Beauty Rest"
1992
Dark Horse
Dr. Susan Hadley
1992
Ladykiller
Michael Madison
TV movie
1992
The Larry Sanders Show
Mimi Rogers
2 episodes; "The Flirt Episode", "You're Having My Baby"
1992
Shooting Elizabeth
Elizabeth Pigeon
1993
Bloodlines: Murder in the Family
Melody Woodman
TV movie
1993
A Kiss to Die For
Ali Broussard
TV movie
1994
Monkey Trouble
Amy
1994
Killer
Fiona
1994
Reflections on a Crime
Regina
Seattle International Film Festival Award for Best Actress
1995
The Beast
Martha
Short
1995
Far from Home: The Adventures of Yellow Dog
Katherine McCormick
1995
Full Body Massage
Nina
TV movie
1996
Partners
Melissa
1 episode; "Your Baby-sitter?"
1996
In the Blink of an Eye
Sonia Jacobs
TV movie
1996
Trees Lounge
Patty
1996
The Mirror Has Two Faces
Claire
1997
Austin Powers: International Man of Mystery
Mrs. Kensington
1997
Weapons of Mass Distraction
Ariel Powers
TV movie
Nomination – Satellite Award for Best Performance by an Actress in a Supporting Role in a Mini-Series or Motion Picture Made for Television
1997
The Christmas List
Melody Parris
1997
Tricks
Jackie
TV movie
1998
Virtual Obsession
Karen Messenger
TV movie
1998
Lost in Space
Dr. Maureen Robinson
1998–1999
The X-Files
Agent Diana Fowley
7 episodes
1999
The Devil's Arithmetic
Leonore Stern
Producer
Nomination – Daytime Emmy Award for Outstanding Children's Special
1999
Little White Lies'
Ellie
1999
Seven Girlfriends
Julian
1999–2000
It's Like, You Know...
Deidre Swayze
2 episodes; "Heat", "Hollywood Shuffle"
2000
Common Ground
McPherson
TV movie
2000
Ginger Snaps
Pamela Fitzgerald
2000
The Upgrade
The Yuppie
Short
2000
Cruel Intentions 2
Tiffany Merteuil
2000–2001
The Geena Davis Show
Hillary
22 episodes
2002
Charms for the Easy Life
Sophia
TV movie
2002
What's New, Scooby-Doo?
Maura Ravenmane
1 episode; "She Sees Sea Monsters by the Sea Shore"
2003
Dawson's Creek
Helen Lindley
1 episode; "Goodbye, Yellow Brick Road"
2003
Cave In
Pat Bogen
TV movie
2003
Dumb and Dumberer: When Harry Met Lloyd
Mrs. Dunne
2003
Las Vegas
Sandra Adlman
1 episode; "Luck Be a Lady"
2004
Hope & Faith
Annie Hannigan
1 episode; "Madam President"
2004
The Gunman
Eve Richards
2004
Seeing Other People
Elise
2004
The Door in the Floor
Evelyn Vaughn
2005
Dancing in Twilight
April
2005
Stone Cold
Rita Fiore
TV movie
2005
Selling Innocence
Abby Sampson
TV movie
2006
The Stranger Game
Joanna Otis
TV movie
2006
Penny Dreadful
Orianna Volkes
2006
Big Nothing
Mrs. Smalls
2006–2007
The Loop
Meryl
17 episodes
2008
Storm Cell
April Saunders
TV movie
2008
My Boys
Maggie/Mike's date
2 episodes; "John, Cougar, Newman Camp", "Jack and Bobby"
2009
Frozen Kiss
Gayle
2009
Falling Up
Meredith
TV movie
2010
Order of Chaos
Mrs. Craig
TV movie
2010
Sins of the Mother
Lois
TV movie
2010
King of the Hill
Katie
1 episode; "Bill Gathers Moss"
2010
Neighbors from Hell
Lorelai Killbride
1 episode; "Country Club Hell"
2010
Abandoned
Victoria Markham
2011
Lucky
Ms. Brand
2011
Balls to the Wall
Mrs. Matthews
2011
CollegeHumor Originals
Bionic Woman
"Superhero Auditions: Callbacks", "Superhero Auditions: Bionic Woman"
2011–2015
Two and a Half Men
Robin Schmidt
Recurring role
6 episodes; "One False Move, Zimbabwe!", "Slowly and in a Circular Fashion", "I Changed My Mind About the Milk", "A Big Bag of Dog", "Justice in Star-Spangled Hot Pants", "The Ol' Mexican Spinach"
2012
For a Good Time, Call...
Adele
2012
The Client List
Valerie Dawson
1 episode; "The Rub of Sugarland"
2012
Hope Springs
Carol
2012
Scruples
Harriet Toppington
Pilot drama based on Scruples
Post-production
2014
Wilfred
Catherine Newman
Recurring role
3 episodes; "Responsibility", "Resistance", "Happiness"
2014
Mall
2014
The Surface
Kim
2015
The Wedding Ringer
Lois Palmer
2015
Bosch
Honey Chandler
3 episodes; plaintiff's ruthless attorney
2015
Captive
Kim Rogers
2015
This Isn't Funny
Elaine Anderson
2015
NCIS
Joanna Teague
3 episodes; "The Lost Boys", "Neverland", "Stop The Bleeding"
2015
Mad Men
Pima
1 episode; "New Business"
2015
Ash vs Evil Dead
Suzy Maxwell
1 episode; "Bait"
Accolades
Gallery
Images
| | |
| --- | --- |
| | There is an image gallery for |
Video
Trading Cards
Notes
Appearances