You may be looking for the other Linda.
Linda Emery (née Bates) also known as Linda B, is the wife of Thomas Emery and mother of Lacey Emery as well as Ash's former girlfriend from high school. Linda B first appeared in Ash vs Evil Dead Season 2 as a main character and was portrayed by Michelle Hurd.
Biography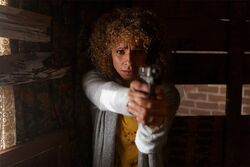 Linda was Ash's high school sweetheart until he left her for another girl named Linda. Sometime after Ash and his friends never returned from a weekend trip, Linda B married the sheriff of Elk Grove and they had a deaughter, Lacey Emery.
Season 2 events need to be added.
Trivia
Aside from extras and a few extremely minor characters, she is the only secondary character to have survived the events of the second season, excluding the main gang of Ash, Pablo, Kelly and Ruby.
Linda doesn't appear nor get mentioned in the third season, so what happened to her during that season is left ambiguous.
Appearances
✔

Appears

✔

Appears as a deadite

🖼

Appears in a photograph

✔

Appears as a corpse

✔

Appears in a dream/hallucination/as a ghost
Notes
Information comes from the official Starz website.