Jake was 
Bobby Joe's
 boyfriend, and the owner of Jake's Gas 'N Go. He first appeared in 
Evil Dead II
. He was one of the 
Hellbillies
 living in the local area.
Biography
When Annie Knowby, and Ed are on their way to the Cabin, they find the bridge destroyed. Jake and Bobby Joe had arrived earlier in the night, and put up warning signs. Jake and Bobby Joe volunteered to show them a trail to the cabin, for a price: $100. Taking them to the Cabin, and after Bobby Joe gets shot by Ash, Deadite Henrietta attacks them. Jake helps Ash lock her in the cellar in the Eyeball Flyball Moment. After Bobby Joe runs out into the Woods, Jake steals the Boomstick and forces Annie and Ash to help look for her. Despite his bravado, he causes Ash to become possessed again. Injured by Ash, Jake tries to get into the Cabin, but Annie stabs him in the chest with The Kandarian Dagger. Annie drags him to the living room, only to have Henrietta devour him.
His skeleton is again found by Ash in the Ash vs Evil Dead episode The Dark One, after Ash enters the cellar. He then has a flashback to Jake's death from Evil Dead II.
Appearances
Gallery
Behind The Scenes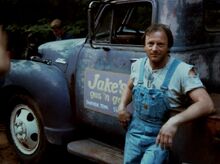 Jake was Dan Hicks first major roll in a major motion picture. Hicks would later appear unaccredited in Army of Darkness as a knight on horseback. As both a friend of Sam Raimi and Bruce Campbell, he often appears in their films, such as Darkman (1990), Spider-Man 2 (2004), My Name Is Bruce (2007), and Oz: The Great And Powerful (2013).
Community content is available under
CC-BY-SA
unless otherwise noted.