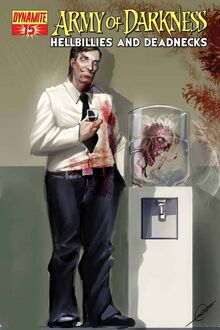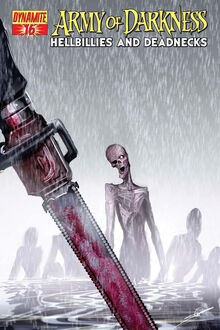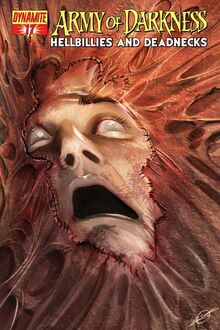 Army of Darkness: Hellbillies and Deadnecks is a four issue story-arc in the second volume of Dynamite Entertainment's Army of Darkness comics. Issues 14 through 17 were released from October, 2008 to March, 2009.
Synopsis
Sometime after defeating Freddy and Jason in Washington D.C., Ash Williams has decided to take his responsibilities as "The Chosen One" a bit more seriously. Ash has come to the conclusion that he must take the Necronomicon Ex-Mortis away from civilization and be the book's guardian. The Chosen One buries the book deep in a forest somewhere, and sets up camp inside an old World War II-era watchtower not too far away from the book to make sure it doesn't try to escape somehow. After a month of isolation in the watchtower, Ash has run out of food, and must head down to the nearest town to fetch supplies, but unbeknownst to him, the book has been crying blood, infecting a nearby river with it's evil. When Ash gets to the town, he discovers that the town's residents have become Deadites from drinking the infected water. Ash must now team-up with the locals who haven't become infected yet to try to save what few survivors are left and fight a new demon called Hell's Prophet.
Alternate Cover Gallery
Next In The Army of Darkness Series
Community content is available under
CC-BY-SA
unless otherwise noted.