Beginning in 2012 to promote the upcoming Evil Dead reboot, theme parks on both the east and west coast of the United States have either changed existing rides or created temporary attractions to have an Evil Dead theme.
Knott's Berry Farm
The first Evil Dead attraction came from Knott's Berry Farm located in Buena Park, California during the 2012 Knott's Scary Farm 40th Anniversary event. The Timber Mountain Log Ride, which is one of the oldest log flume attractions in the United States, was given an Evil Dead overlay to promote the 2013 reboot. The ride featured scenes inspired from both the new film and the 1981 original, with actors in costume as Deadites scaring the riders as they went by certain scenes. The scenes include a Deadite trying to escape a cellar in the main room of a cabin as a loose Deadite swings an axe at the passing riders, a Deadite-infested forest with a small model of the cabin, and finally an actor dressed as Ash Williams (complete with Chainsaw arm) getting ready to fight a Deadite as the ride comes to an end.
Universal Studios Hollywood and Orlando
Evil Dead (2013) Maze
In 2013, Universal Studios added a temporary Evil Dead maze attraction for their annual Halloween Horror Nights event. Unlike the Knott's Berry Farm attraction, the Evil Dead maze was a walk through attraction instead of a ride and focused on the 2013 film with no appearance of Ash. The maze focuses on Mia and her night against the Deadites in a chronological retelling of the film. Some scenes featured in the maze were Mia trapped by the living trees, Eric reading from the Book of The Dead, Deadite Olivia cutting her face, and Natalie cutting off her arm. Fede Alvarez (director of the reboot) was involved late into the production of the maze and gave his approval of the attraction.
Ash Vs. Evil Dead (2017) Maze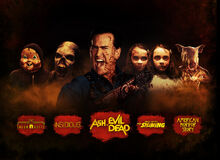 In 2017, a temporary maze based off the first two seasons of Ash Vs Evil Dead was featured in both Universal Studios Hollywood and Orlando for Halloween Horror Nights 2017. Scenes featured in the maze include:
Other Attractions
It should be worth noting that the Rotten Apple Head monster from the end of Evil Dead 2 was given to a local haunted house in Wadesboro, North Carolina after the filming of Evil Dead 2 since the prop was too big to bring back to Detroit.
Community content is available under
CC-BY-SA
unless otherwise noted.