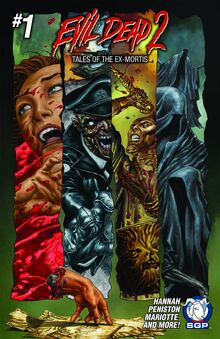 Evil Dead 2: Tales of The Ex-Mortis is a three issue limited series comic book by Space Goat Publishing released in 2015 and 2016. The series involves various people in various times searching for or using Necronomicon Ex-Mortis /The Book of The Dead. The series was also released digitaly in ten seprate parts. 
Stories In The Series
Issue #1
Soul Power (Part 1): A college student seeks out the Necronomicon to help him win the heart of a girl who doesn't even notice him.
The Lottery (Part 1): In 4000 BC, A human sacrifice ritual made to ensure abundance in crops and livestock suddenly no longer has the desired effect it did for hundreds of generations, but their most resent sacrifice could change that...
Deadite Man Walking: A wheelchair bound professor at Glendale University uses Necronomicon Ex-Mortis to conjure up some new legs, but he quickly learns that what you get from the Book of The Dead isn't always what you want...
Camp Deserted (Part 1): The Necronomicon is accidentally donated to a summer camp, and sure enough, someone reads from it's blood inked pages...
Issue #2
Soul Power (Part 2): A college student's journey to find Necronomicon Ex-Mortis continues.
The Lottery (Part 2): The most resent human sacrifice battles the dark lord Dagan for his freedom.
Scream Queen: while staying at a cabin for the Miss Galaxy pageant, a runner up in the competition does battle with her possessed Deadite friends.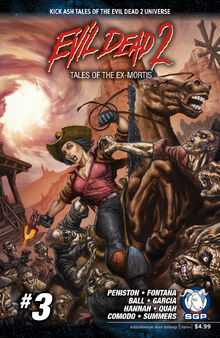 Issue #3
Soul Power (Part 3): A college student's journey to find The Necronomicon is unsuccessful, but you don't need it if you know the spell...
Say Your Prayers (Camp Deserted Part 2): Deadites are unleashed upon an old western town in Arizona when an outlaw sells his soul to the Devil.
Das Book: The Nazis find the remains of a pharaoh who was sealed in a tomb with pages of The Neconomicon Ex-Mortis.
Alternate Cover Gallery
Community content is available under
CC-BY-SA
unless otherwise noted.