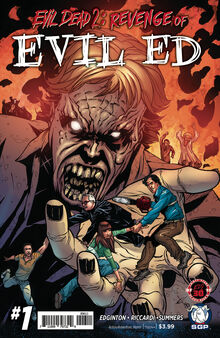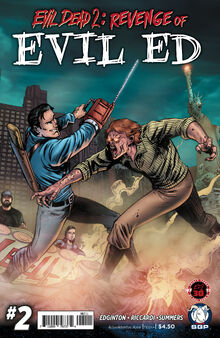 Evil Dead 2: Revenge of Evil Ed was a two-issue miniseries released by Space Goat Publishing. The first issue was released in February of 2017, one month short of the 30th anniversary of the Evil Dead 2 film, and the second was released in May of 2017. It was the sixth book in Space Goat's "Evil Dead 2: Revenge of" series, and the first "Revenge of" story not to be limited to a one-shot.
Plot Synopsis
(From Official Press Release) "The Deadite madness goes all out in this all-new 30th Anniversary special. Ash wins a bus trip to Las Vegas from a bogus Employee of the Month award which quickly goes off the tracks as Deadite Evil Ed shows up with an entourage of the baddest bads. Hitler, Dracula, The Mummy, Bin Laden, and Rasputin are all here, jammed full with those crazy Kandarian Demons! But hey, a trip to Vegas is a trip to Vegas, right?"
Continuity
Trivia
Backers who donated $500 or $1,000 US dollars for Space Goat's Evil Dead 2: The Official Board Game Kickstarter project had their likeness appear on the covers of the two issues in this miniseries. The backers were also sent 10 copies of the issues they appeared on. As of August of 2018, it is the only reward that Space Goat delivered on for that project.
In the print edition of the issues, Ash directly mentions S-Mart by name in several parts of the story. In the digital version of the comic, "S-Mart" is replaced with "ValueStop" (Ash's place of employment in Ash vs Evil Dead). This is presumably due to the fact that Space Goat is only allowed to use characters and locations that were featured in the Evil Dead 2 film, and S-Mart was introduced in Army of Darkness. S-Mart had been previously name-dropped before in the Revenge of Hitler one-shot. Another element from Army of Darkness that was featured in this series was Ash's new mechanical hand, which resembles his Metal Gauntlet from the Army of Darkness film.
Community content is available under
CC-BY-SA
unless otherwise noted.