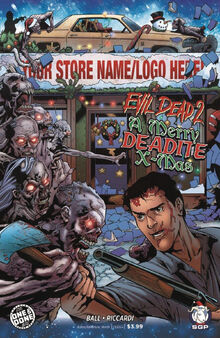 Evil Dead 2: A Merry Deadite X-Mas is an upcoming one-shot comic from Space Goat Publishing set to release on December 16th, 2016. It will be the first Evil Dead 2 one-shot from Space Goat not to be a "Revenge of" title.
Synopsis
(From official press release) Ho-ho-horror! Have a groovy Evil Dead holiday season with this brand new one-shot story that's guaranteed to put the undead into your holiday dread! This one-shot special "Peace On Earth" story pits Annie and Ash against a Christmas horde of Deadites at Santa's Snowy Garden, a rundown theme park. Pretty soon, it's Annie, Ash, the theme park staff, and time-traveling demon hunters against the forces of beloved but possessed holiday icons. The gang must use their knowledge of Elves, St. Nick, Misfit Toys, Snowmen, Angels, 10 Lords-A-Leaping, and annoying holiday songs to wish themselves a Merry Christmas of survival. Writer Georgia Ball (Frozen, Evil Dead 2: Revenge of Jack the Ripper) brings in the true holiday fear with art by the captivating Vincenzo Riccardi (Aliens vs. Zombies).
Community content is available under
CC-BY-SA
unless otherwise noted.