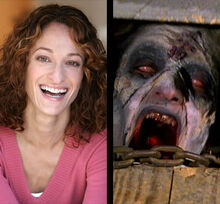 Ellen Sandweiss (born December 30th, 1958) is an American actress that portrayed Cheryl Williams, Ash's sister in the horror movie The Evil Dead. She returned to the role of Cheryl in Ash vs. Evil Dead Season 2.
Involvement With The Evil Dead Series
Actor
Other Films
Sandweiss has played other characters named Cheryl as a reference to her Evil Dead role in other films and TV shows, such as My Name Is Bruce (2007) and Dangerous Women (2009).
External Links