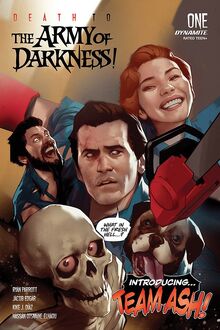 Death To The Army of Darkness is an upcoming comic book limited series from Dynamite Entertainment, written by Ryan Parrott and will feature art by Jacob Edgar. The first issue will be released in February 2020.
Plot Synopsis
(From Official Press Release): Picking up just barely after the legendary Army of Darkness film, the big mixup is of course due to some classic bad translation of the Necronomicon. Introducing the cast… Ash is joined by the personification of his feminine side with Ashley Williams, Lil' Ash, Dash aka Doggie Ash, the cynical and morose Skeleton Ash and Chainy – Ash's now sentient chainsaw!
Together they must travel through time to Ancient Egypt and prevent the Necronomicon from ever being written in the first place. Along the way, can Ash solve his split personality predicament – and how would the others feel about that? Could one of the party members be hiding something? Fans will just have to read to find out!
Variant Cover Gallery
Community content is available under
CC-BY-SA
unless otherwise noted.