Dark Horse Comics is an American comic book and manga publisher. It was founded in 1986 by Mike Richardson in Milwauke, Oregon, with the concept of establishing an ideal atmosphere for creative professionals. Dark Horse Comics is well known for having the licences for popular franchises such as The Terminator, Star Wars, Indiana Jones, and Buffy The Vampire Slayer. They are also known for their own original series including The Mask and Timecop. In 1992, Dark Horse published the first comic book series to be based on the Evil Dead franchise, a three issue adaptation of the Army of Darkness film. In 2008, Dark Horse released a four issue series featuring a "re-imagining" of the original Evil Dead film simply titled: The Evil Dead. Dark Horse also released a four issue series based on Bruce Campbell's Man With The Screaming Brain and a one-shot based on My Name Is Bruce.
External Links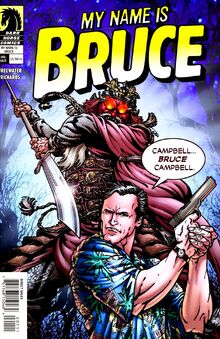 Community content is available under
CC-BY-SA
unless otherwise noted.