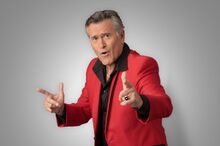 Bruce Lorne Campbell (born June 22, 1958) is an American actor, producer, writer and director who portrayed Ash Williams in The Evil Dead film series and television show, as well voice the character in three video games and produced the films. In television, Campbell is also known for his lead roles in both The Adventures of Brisco County, Jr. and Jack of all Trades, his starring role of Autolycus (the King of Thieves) in Hercules: The Legendary Journeys and Xena: Warrior Princess, and notably for his role as Sam Axe on the USA Network series Burn Notice. He is the younger brother of Don Campbell.
Involvement With The Evil Dead Series
Actor
Producer
The Evil Dead (1981)
Evil Dead 2 (1987)
Army of Darkness (1992)
Evil Dead (2013)
Evil Dead Rise (2021)
External Links
Community content is available under
CC-BY-SA
unless otherwise noted.