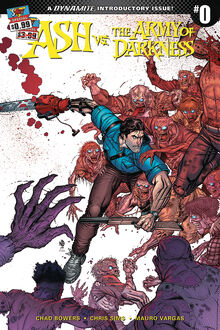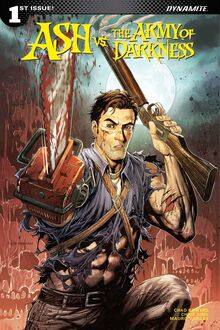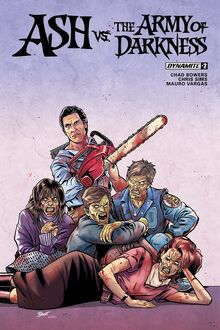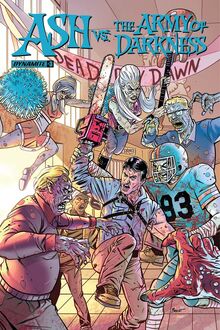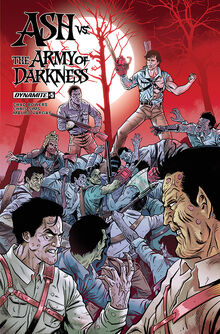 Ash Vs. The Army of Darkness is a comic book series from Dynamite Entertainment written by Chad Bowers and Chris Sims. The first issue (a special $0.99 cent #0 introductory issue) was released on June 7th, 2017.
Summary
After being fired from S-Mart, Ash Williams is approached by a teacher at Alan Shepard High School who believes that the school is being taken over by Deadites, and needs Ash to undercover as a substitute teacher to investigate. Ash agrees under the condition that the shop class fix his vandalized car. During his first day at the school, Ash is assigned to watch a small group of students in detention, but shortly after the class begins, a Deadite frog from the science lab attacks, but Ash quickly takes down the frog before any students were harmed. Immediately after dealing with the frog, a janitor named Frank is attacked by the Kandarian Demon and becomes a Deadite. Before Ash can take him down, the undead janitor is killed by agents of S.M.A.R.T. (Supernatural Military-Adjacent Response Team), a secret organization founded by The Wise Man, Sheila, and Lord Arthur shortly after Ash left 1300 AD. Since the 14th Century, S.M.A.R.T. has awaited the return of "The Promised One" written of in the Necronomicon Ex-Mortis, and while many agents now believe that Ash is "T.P.O.", one agent named Westlake believes that Ash doesn't fit the description of The Promised One: a cold-blooded maniac who's as heartless as the Deadites he slays...
Variant Cover Gallery
Community content is available under
CC-BY-SA
unless otherwise noted.