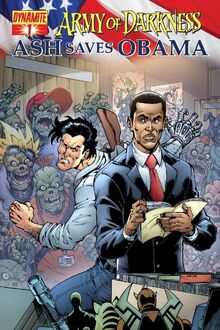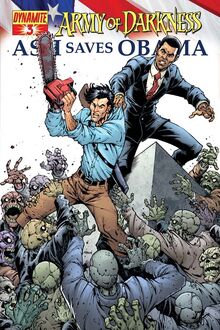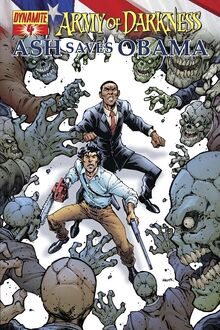 Army of Darkness: Ash Saves Obama is a four issue limited series released by Dynamite Entertainment in 2009. It was one of many comic book series released in 2008 to 2009 to capitalize on avid comic book fan Barack Obama being elected as President of The United States of America.
Synopsis
When Doreen from the Deli leaves Ash Williams to run the S-Mart Snack Stop stand all by himself in a local Detroit Comic-Con, all hell breaks loose when a comic book version of the Necronomicon Ex-Mortis is found by some children who foolishly read from the blood-inked pages. Meanwhile, newly elected president Barack Obama just happens to be in Michigan and decides to visit this Comic-Con and goes comic shopping. Obama is given the copy of the Neconomicon, and Ash must race to Washington D.C. before the President reads from the book and becomes a Deadite himself.
Alternate Cover Gallery
Trivia
Another Dynamite Entertainment character, Red Sonja, appears in issue #1 on a banner in the Comic-Con. Ash will later meet Red Sonja in the Prophecy crossover in 2012.
At Obama's Q&A panel in issue #1, the character and fictitious series Solan: Son of Darkness is mentioned as coming out of "the crossover that nobody asked for". Army of Darkness/Xena Warrior Princess was advertised as the crossover that nobody asked for, and later in the second crossover, a character named Solan (revealed to be the son of the Ash of Earth-818792 and Xena's friend Gabrielle) was introduced.
Later Army of Darkness comics will revisit the idea of a Necronomicon being sold at a Comic-Con, specifically 2014's Convention Invasion one-shot.