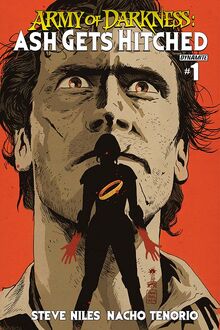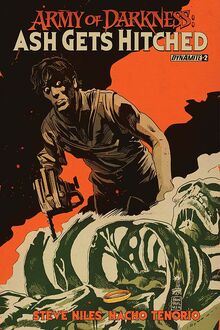 Army of Darkness: Ash Gets Hitched is a four-issue limited series from Dynamite Entertainment in 2014. It picks up some time after 2013's Ash and The Army of Darkness series.
The Story
After Ash proposed to Sheila in AatAoD #8, the two have been preparing for the wedding by fighting Deadites. Ash has been interrogating Deadites for information on The Faceless Man, a monster he had unleashed after he saved Sheila from the Deadites. Because The Faceless Man was released, the Deadites can walk in the daylight, which makes Ash and Sheila's fight against evil 24/7, causing their wedding to be put on hold.
Alternate Cover Gallery
Notes
In Issue #2, Ash, Sheila, and The Wise Man return to the windmill. Ash heads inside the windmill and Sheila and The Wise Man hear strange noises from inside. These noises are explained in Army of Darkness #1992.1 in the short story: Return To The Windmill.
Next In The Ash And The Army of Darkness Series
Community content is available under
CC-BY-SA
unless otherwise noted.