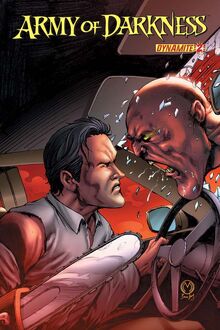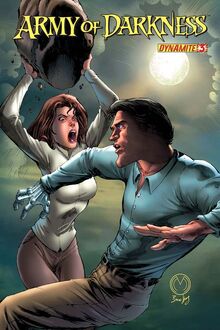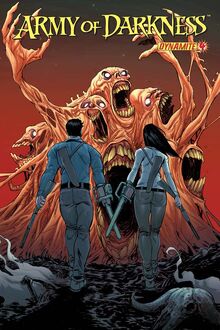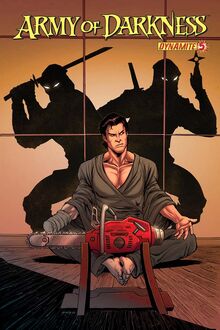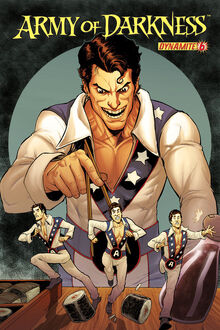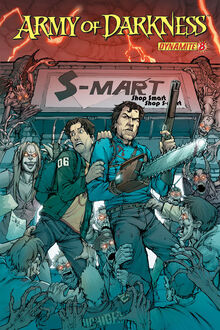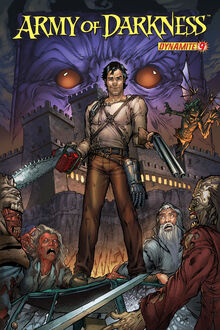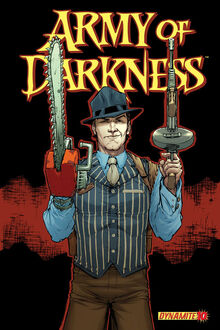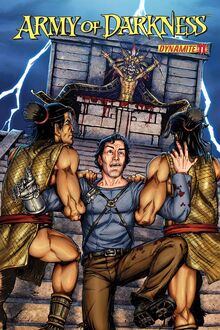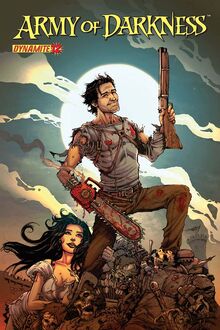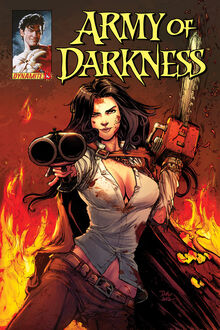 Army of Darkness Volume 3 is a 13-issue series from Dynamite Entertainment released in 2012 and 2013.
The Plot
Ash Williams has become a Deadite-Hunter-For-Hire, going all over the world to rid the world of the evil unleashed by the Necronomicon Ex-Mortis, and someone has hired Ash to go to South America to fight the evil released by Deadite Nazis. While fighting the Nazis, Ash meets a girl named Ashley K. Williams, who happens to be his female counterpart from another universe who has come to seek his help on controlling her super-powers. The two Ashes are separated by the Necronomicon, sending the male Ash to Japan in 1979, and the female Ash to Hell. Trapped in 1979, Ash must save Japan from a possessed madman and race back to the states to save his teenage-self from Deadites escaping Hell. After saving himself, Ash is then thrown further back in time to Chicago, 1929, where he teams-up with Elliot Ness and a half-dead midget to get revenge on the gangsters who murdered his grandfather shortly before his arrival. Returning to the 21st Century, Ash finds that Montezuma has come back to get his revenge on Ash after he was defeated by Ash the last time he was resurrected.
Alternate Covers
Only the first three issues had alternate covers.
Notes
First ongoing Army series since Volume 2 in 2008.
Next In The Army of Darkness Series
Community content is available under
CC-BY-SA
unless otherwise noted.