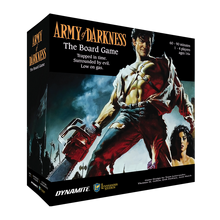 You might be looking for Leading Edge's Army of Darkness Board Game.
Army of Darkness: The Board Game is an upcoming Kickstarter-funded board game from Dynamite Entertainment and Lynnvander Studios. It was announced on May 30th, 2018, just a few days after Space Goat's Evil Dead 2: The Official Board Game was revealed to be canceled.
Overview
"Army of Darkness is a cooperative game for 1 to 4 players that can be played in 60 to 90 minutes. In this action-assignment area control game, you play as Ash and his allies, and work together to fight off swarms of Deadites commanded by Evil Ash and Evil Sheila. Upgrade your defenses with modern technology from the trunk of Ash's car, and stop the Deadites from overtaking the castle. Each turn, players have a limited time to simultaneously play move, attack, action, and special cards, in order to defend the various sections of the castle. After time is up, resolve your chosen cards, and play out your programmed actions, rolling dice to attack Deadites. Survive long enough to use the Necronomicon to save Sheila, and take down Evil Ash to win the game!" - Official description from Dynamite.
Community content is available under
CC-BY-SA
unless otherwise noted.